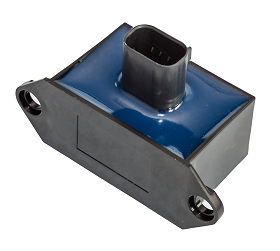 Accelerometer
This analog 3D-accelerometer with CAN bus interface was designed for usage in industrial environments. It is fully sealed. The integrated power supply circuit was engineered to accept supply with highly dynamic voltage within a broad range. All devices are calibrated and can detect their mounting direction to aid with integration into various target systems. The accelerometer is produced for the customer at AES.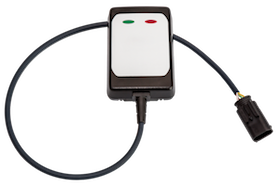 RFID Reader
This RFID reader system with CAN bus interface was developed as a replacement for keypad-access devices. A customer used these for providing access control for his machines to end customers. The keypad devices had limited driver support and power consumption was not satisfactory. Our RFID reader solution has reduced power consumption, and its firmware can be upgraded through the CAN bus interface to provide new or improved functionality. The integrated power supply circuit was engineered to accept supply with highly dynamic voltage within a broad range. The reader is plug-in compatible with the original keypad and does not require changes in the firmware of the host system. This gives our customer the benefit of being able to easily retrofit older machines. End customers can fully reprogram which RFID tag families the reader should use, and which cards are accepted, at any time through our accompanying software package and dedicated setup devices. The reader is currently produced by AES in multiple variants for our customer, including PC compatible setup devices. AES also offers compatible RFID transponders in various forms, for example as credit card format or as key ring pendants.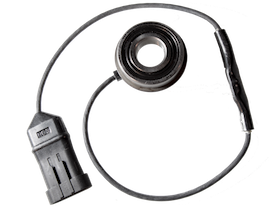 Rotary encoder
Signal compatibility between sensor and host system interface can provide challenges when various systems of different origin need to be combined. Changing any of them can be a costly and time-consuming affair. In this example a small electronic board was designed for a customer to convert signals of an encoder unit into signals that are compatible with the host system. The solution is produced at AES for our customer.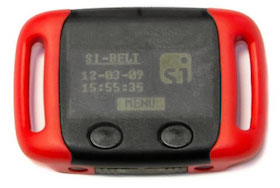 Logger
This device was designed to measure and record motion data of users and their current environmental conditions over prolonged time periods. A rechargeable Lithium-ion battery enables recording cycles of up to one week. A USB interface is used for data transfer and battery recharging. Active 125kHz RFID receiver and radio transceiver (Bluetooth or proprietary short-range radio) are optionally fitted for wireless data transfer and to interact with the existing RFID system of the customer. The user interface is displayed on an OLED screen and controlled with two buttons.